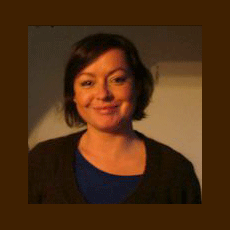 I've always had a love for what makes us tick, however I didn't get the required points to study psychology when I left school, so my career took another path. I completed a BA (1994) in photography and afterwards worked in photographic studios both in Italy and Ireland. I later worked in the department of Irish Folklore, University College Dublin for 6 years designing elearning courses.
Things have a way of coming full circle; while working in UCD and completing an MA in design in 2005, I did a project called 'Poetry in Motion'. This reignited my love for the psychology of feeling, particularly the work of Antonio Damasio (The Feeling of What Happens) and Mihaly Csikszentmihalyi (Flow: The Psychology of Optimal Experience). Though I changed careers in 2008 and started working as an EFT practitioner, everything I did before is connected to what I'm doing now by way of my focus on the importance of feeling our emotions and sensations.
I am a certified EFT practitioner (trained with EFT founder Gary Craig, EFT Cert-I), clinical hypnotherapist (Advanced Diploma) and licensed Energy in Motion practitioner. I also have an MA in Counselling & Psychotherapy and completed my thesis (2011-2013) on trauma and dissociation (1st class honours). I am particularly interested in somatic dissociation and how it shows up in the body in various symptoms/conditions.
I am a member of the Association of Professional Counsellors and Psychotherapists in Ireland and the International Association for Trauma Professionals. I am also an accredited member of the Guild of Energists. I keep up with the latest research both for my own enjoyment and to fulfill my continuing professional development requirements (50 hours per year). Some courses that I have completed:
• Shame, Self-Loathing & Complex Trauma Treatment: Somatic Interventions with Janina Fisher, PESI, 2016.
• Certified Family Trauma Professional Intensive Training: The Most Effective
Techniques for Treating Traumatized Children, Adolescents and Families with Robert Rhoton, PESI, 2017.
• Brainspotting with David Grand, Sounds True, 2017.
• Embodiment Exercises: How to Sense the Body to Increase its Powers of Self-Regulation, Raja Selvam, 2017.
• How to Work with Trauma That is Trapped in the Body with Pat Ogden (The National Institute for the Clinical Application of Behavioral Medicine, NICABM), 2017.
I have also completed seminars and workshops with Jess Angland, Bessel van der Kolk, Bonnie Badenoch, Peter Levine, Tim Dunne, Daniel Siegel, Eric Gentry and Tara Brach etc.
I am fascinated by how trauma and dissociation are inherently linked. It is why Irish psychiatrist, Ivor Browne, calls trauma: unexperienced experience with dissociation being the mechanism that keeps our experiences unexperienced. I firmly believe that the notion of trauma should be normalised. Every single one of us has been hurt at some time in our life, and, as a result of not feeling our wounds, we carry unresolved traumatic stress that shows up in various ways.
I believe being able to tolerate difficult emotions and physical sensations is essential to healing from trauma. When we find it too difficult and unsafe to stay with our pain, we leave our body, or dissociate; what Tara Brach humourously calls leaving the premises. We need to learn how to stay in our body to heal and not dissociate in the many different ways we all 'check out', and for that to happen, safety is essential. We can't talk ourselves into feeling safe, we either feel safe or we don't. Our bodies are our litmus test in that respect, they can't and won't lie.
If we're not in our body, and many of us are 'leaving' our bodies over and over again because what they contain is too overwhelming, we can't listen to their messages and release the stress they hold for us. So, stress builds up and up and up, until our barrels become full and begin overflowing with symptoms. Symptoms are usually our first sign that something is amiss. They are the bread crumb trail that lead us to the root cause(s). There are some good questions we can ask so we get some clarity about what's really going on with us.
The most priceless skill we can learn is how to regulate our autonomic nervous systems so we can tap into our ability to relax and feel comfortable in our own skins. I believe a dysregulated nervous system, stemming from unresolved traumatic stress, is the number one health issue in our world today.